Having access from home to your teachers, school email, and data is important. Listed below are links for O365, and other programs you may want to use or be asked to use.
Office 365
All students in Anglophone East School District have an Office 365 account. Office programs such as Word, Excel, PowerPoint, and Teams are accessible online by signing in with your student username and password (example: HCPS12365@nbss.nbed.nb.ca, school password) to www.office.com.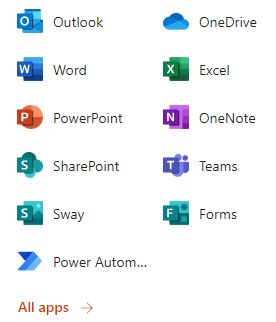 Downloading and Installing O365
You can also download the program(s) if you do not want to work online.
To download Office desktop programs to use on home devices please sign in to www.office.com
Click on your account – round circle at the top right corner on www.office.com
Click on "My Account"
Click on "Install office"
This account will remain available while the student is a student within the Anglophone School District. We do not offer any technical help or support with these programs.
► Click here for a YouTube Video – How to log in and use O365 for students and parents
Log in is your username – not your NBSS email – Do not put @nbss.nbed.nb.ca example: nbsscaps12312
Link to access D2L is on main site under students
Username is just your username not your email.
Course Selection is only open at school discretion. You will receive notification from your school when you can access this link.
Fresh Grade


Other Apps and Resources

► Visit the Anglophone East YouTube Channel for video